The 6th Singapore-China Legal and Judicial Roundtable (the Roundtable) was convened between the Supreme Court of Singapore and the Supreme People's Court (SPC) of the People's Republic of China today. Co-chaired by The Honourable the Chief Justice Sundaresh Menon and the President and Chief Justice of the SPC, His Excellency Zhou Qiang, the Roundtable has provided both judiciaries an invaluable platform to exchange meaningful insights in specific areas of law since its inception in 2017.

2 The two Chief Justices also jointly launched the Strategic Roadmap on judicial collaboration, which sets out the five pillars of partnership to chart new heights in this bilateral journey. Each pillar features the previously discussed workstreams at the past editions of the Roundtable and Working Group meeting, a precursor to the signature Roundtable, thereby encapsulating the years of hard work and collective efforts by both courts. The Roadmap will serve a two-fold purpose – to take stock and record the milestones achieved at each successive Roundtable and Working Group meeting as well as serve as a planning guidance for future Roundtables and Working Group meetings. Please see Annex A for the Infographic on the Roadmap.

3 In his Opening Remarks, Chief Justice Menon recapped several significant milestones between the two courts over the past year, namely the:

a) recent appointment of Justice Zhang Yongjian as an International Judge of the Singapore International Commercial Court;

(b) participation of the SPC in the inaugural meetings of the International Judicial Dispute Resolution Network as well as the Meeting of Chief Justices and Judges in charge of Technology to advance access to justice and harness technology in our justice systems; and

(c) 4th Meeting of the Working Group between the two Co-chairs, Justice of the Court of Appeal, Justice Steven Chong, and Vice President of the SPC, Justice Yang Wanming, to discuss the development of the legal infrastructure to support the BRI.

4 At the Roundtable, both courts shared their experiences and discussed their perspectives in the following areas:

(a) Measures and Mechanisms to Promote Unified Application of Law;

(b) Best Practices in Managing Complex Litigation;

(c) Application of International Treaties and Customs in Cross-border Commercial Litigation; and

(d) Cross-border Insolvency.

5 In looking ahead, Chief Justice Menon and Chief Justice Zhou emphasised the continued importance of bilateral judicial cooperation in the context of today's society. They also reaffirmed the strong bilateral ties and longstanding friendship between the two countries and renewed their commitment to enhance access to justice in their respective jurisdictions.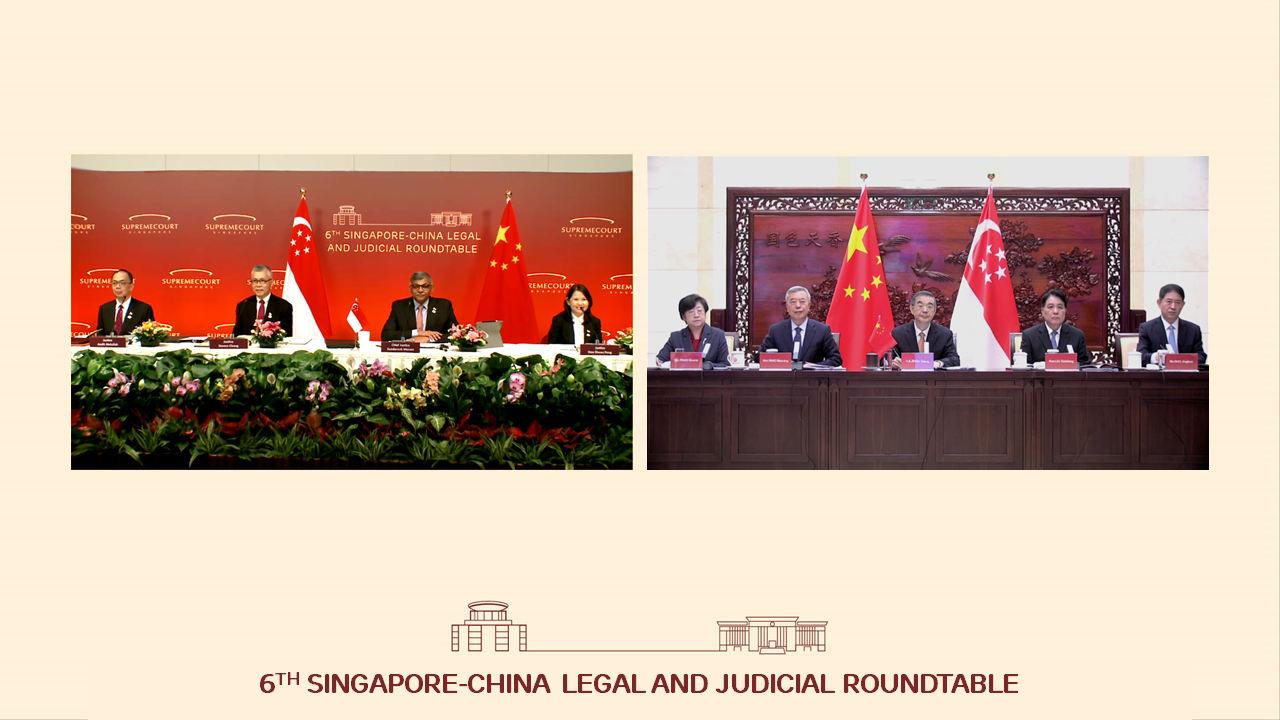 Issued by: The Singapore Courts


About SG Courts

The Singapore Courts – comprising the Supreme Court, State Courts and Family Justice Courts – is one of the three constitutional pillars of government in Singapore. Known collectively as SG Courts, we are integrated and coordinated to serve as one judiciary. As an organ of state, the judiciary's function is to independently administer justice. Headed by the Chief Justice, we are a forward-looking, innovative and trusted judiciary. Built on judicial professionalism and transparency, we maintain the highest standards of integrity in safeguarding our community. We pledge to ensure equal and continuous access to justice, and we are committed to deliver justice that is fair and impartial.

Annex A