FJC and three professional bodies join hands to set up Panel of Therapeutic Specialists
The Family Justice Courts ("FJC"), the College of Psychiatrists, Academy of Medicine, Singapore ("COPsych"), the Singapore Association for Counselling ("SAC") and the Singapore Psychological Society ("SPS"), have inked a Memorandum of Understanding (MoU) to set up a Panel of Therapeutic Specialists ("POTS") to provide a variety of specialised therapeutic services to families who come through FJC.
2 First announced in September during Family Conference 2021, POTS aims to increase the accessibility of therapeutic specialist services to court users and their families who require mental health-related support, or specialised assessment and intervention during mediation or in the course of legal proceedings.
3 The panel will comprise qualified mental health and social science professionals from the private sector, and their services will be sought as directed by the Judge or through a voluntary referral process.
Next steps
4 POTS will commence with a pilot in early 2022. A Steering Committee headed by the Registrar of FJC will oversee the development of the project. Senior mental health professionals will be invited to volunteer as members of an honorary Therapeutic Advisory Council (TAC), which will, among other roles, develop the criteria and professional requirements for POTS and oversee its recruitment and selection process.
5 To qualify for POTS, practitioners must be registered members of COPsych, SAC or SPS. They must have good professional standing in their respective fields and possess relevant experience treating children and families undergoing divorce. Depending on their chosen fields of specialisation, practitioners must also fulfil additional requirements set out by the respective professional bodies.
6 POTS is part of FJC's efforts to expand therapeutic services available to meet the diverse needs of families which are undergoing or concluding their legal proceedings in FJC. This is important as families which are involved in court proceedings often face different types of difficulties, and have complex needs and issues underlying the legal disputes.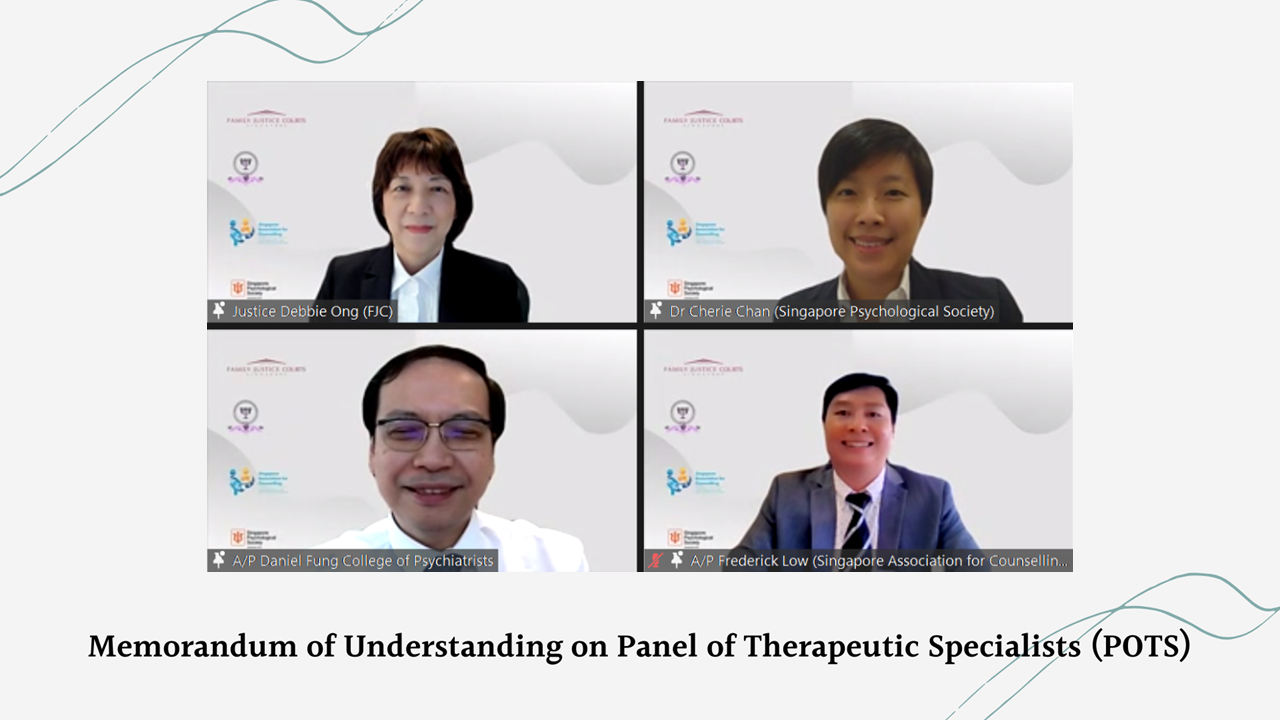 Representatives of the four signatories are, clockwise from left: FJC's Presiding Judge Debbie Ong; President of SPS, Dr Cherie Chan; President of SAC, Associate Professor Frederick Low; and President of COPsych, Associate Professor Daniel Fung
7 Commenting on the initiative, FJC's Presiding Judge Debbie Ong said, "In 2020, FJC announced that we will be pivoting our vision for family justice in Singapore to be guided by the philosophy of Therapeutic Justice. Since then, much has been done to build up awareness and capacity amongst members of the family justice community to better support the needs of families facing breakdown. The POTS initiative is another significant piece which will strengthen our family justice support system. We hope that through POTS, the parties will have an additional avenue through which they can seek therapeutic assistance in their journey of healing."
8 Associate Professor Daniel Fung, President of COPsych said, "The College of Psychiatrists, Academy of Medicine, Singapore is committed to support FJC in providing assessment and therapy for families who may face mental health issues during legal proceedings. We will recommend our members to support this venture."
9 Associate Professor Frederick Low, President of SAC added, "Demand for counselling has accelerated across all sectors in recent years. The Singapore Association for Counselling strives to support and partner key stakeholders to grow a healthy eco-system of mental health and social care services, promoting easier access to therapeutic support across communities in Singapore. This collaboration with FJC is timely and well-placed to help children and families with relational challenges as they transit through difficult times."
10 Dr Cherie Chan, President of SPS said, "Singapore Psychological Society is honoured to be a part of this landmark collaboration. The POTS initiative is a collaborative vision that marries the domains of counselling and legal expertise to increase accessibility to mental health-related support services and specialised assessment and intervention to the wider community. We applaud this initiative in its endeavour to highlight the importance of rehabilitation and ensure that specialists serving on POTS are qualified experts."
About the Family Justice Courts
Established in 2014, the Family Justice Courts (FJC) are a restructure of our Court system to better serve litigants by bringing together all family related work under a specialised body of courts. The FJC comprises the Family Division of the High Court, the Family Courts and the Youth Courts and is administered by the Presiding Judge of the FJC. The cases dealt with by the FJC include those relating to divorce and ancillary matters, family violence, maintenance, adoption and guardianship, youth court, mental capacity and probate and succession. Its mission is to make justice accessible to families and youth through effective counselling, mediation and adjudication.
About the College of Psychiatrists, Academy of Medicine, Singapore
The College of Psychiatrists was officially formed on 5 November 2014 under the umbrella of Academy of Medicine, Singapore. Formerly, the Chapter of Psychiatrists was formed in 1986. Now as a College, it continues to provide professional leadership, continuing education in psychiatry, advocacy in quality care and safe clinical psychiatry practice. The College also provides recommendations to the Academy on specialist qualification and training, and Fellows of the College serve on national specialist training committees and academic programme committees.
About the Singapore Association for Counselling
The Singapore Association for Counselling (SAC) is the professional body representing counsellors, psychotherapists, counselling educators and students in Singapore. SAC has over 1000 members, with members from both the public and private counselling sectors. SAC established the Register of Counsellors in March 2003 and the Register of Clinical Supervisors in March 2017. To date, it has more than 400 Registered Counsellors and 100 Registered Clinical Supervisors, and many more working towards registration. SAC has been a full member of the National Council of Social Services (NCSS) since April 2015 and a member of the International Association for Counselling.
About the Singapore Psychological Society
The Singapore Psychological Society (SPS) is the national professional body for psychologists in Singapore. It was founded in 1979 and has as its aims the advancement of psychology as a science and as a profession in Singapore. Over the years, SPS has worked steadily to promote knowledge of psychology and its applications for the benefit of individuals and the wider community. The society has also continued to advocate and set up high standards of practice to ensure good professional standing and conduct for its members through domains such as teaching, clinical practice and research. SPS currently has more than 1100 members with over 500 registered with the Singapore Register of Psychologists (SRP). SPS also represents Singapore on both international and regional fronts. Globally, SPS continues to build strong relationships with the International Union of Psychological Science (IUPsyS) and the Global Psychology Alliance (GPA). Within the Asia-Pacific region, SPS seeks to learn and grow through active representation within the Asia Pacific Psychology Alliance (APPA) and the ASEAN Regional Union of Psychological Societies (ARUPS).