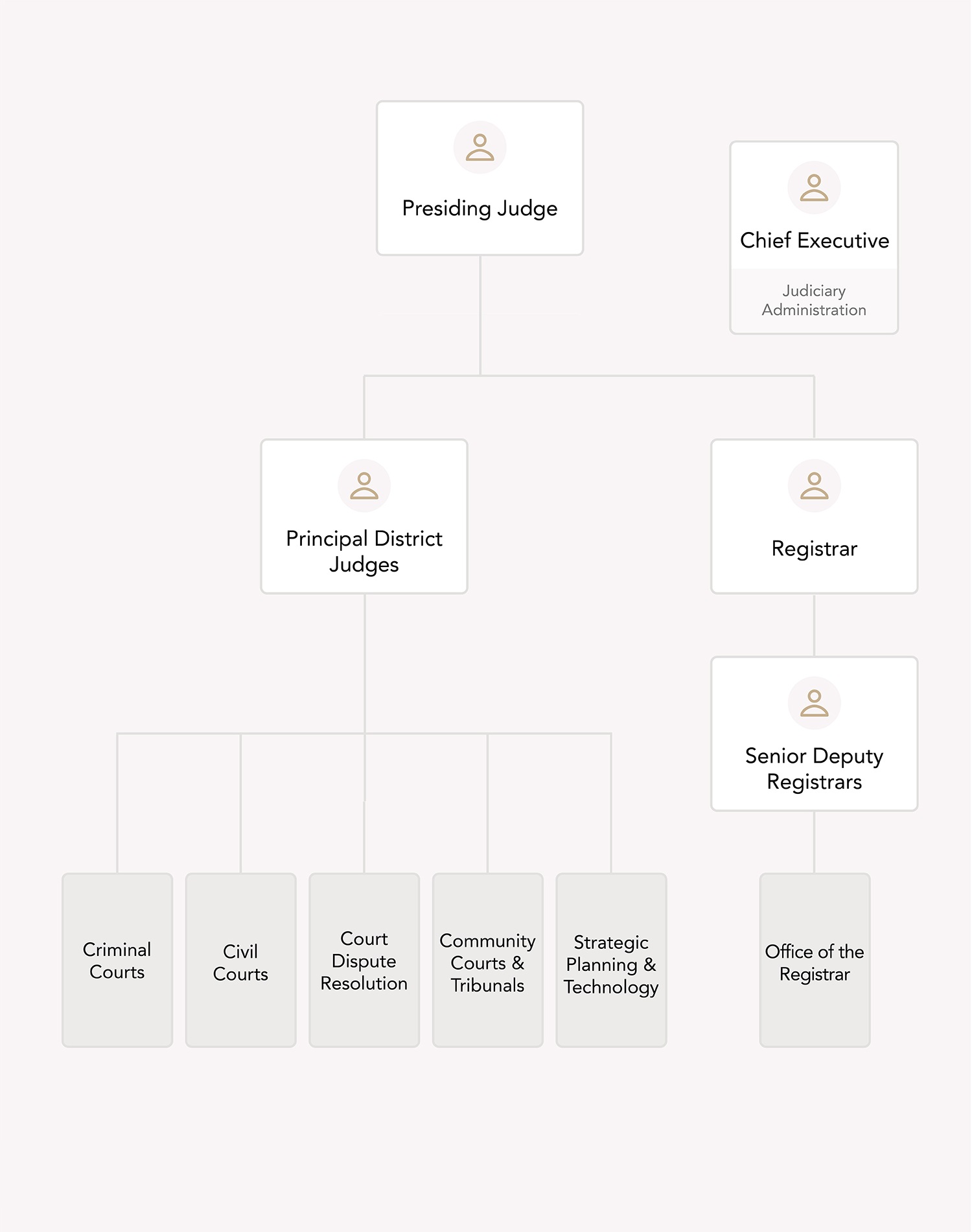 The State Courts are headed by the Presiding Judge of the State Courts, who is a Judge or Judicial Commissioner of the Supreme Court, with overall responsibility for the leadership and management of the State Courts.
The Presiding Judge of the State Courts is assisted by the Deputy Presiding Judge, Principal District Judges, the Registrar of the State Courts and senior court administrators. View the list of judges and judicial officers in the State Courts.
The 3 main divisions in the State Courts are the:
Justice Division
The Justice Division comprises the following clusters, which support the criminal and civil justice system:
Criminal Courts cluster

Manages the hearings and operations of the criminal courts.

Civil Courts cluster

Manages the hearings and operations of the civil courts.

Community Courts and Tribunals cluster

Manages the hearings and operations of the following tribunals and matters:

Small Claims Tribunals.
Community Disputes Resolution Tribunals.
Employment Claims Tribunals.
Protection from Harassment Court.
Magistrate's Complaints.

Court Dispute Resolution cluster

Provides court dispute resolution services for the whole range of matters in the State Courts.

Office of the Registrar

Centrally manages the legal registry functions of the State Courts.

For civil cases in the Magistrate's Court and District Court, all interlocutory applications (applications that are filed and heard before a trial) are heard by judicial officers from the Office of the Registrar.
Judicial Administration Division
The Judicial Administration Division comprises the following:
| | |
| --- | --- |
| Corporate Services cluster | Provides support in ensuring efficient court operations. |
| Strategic Planning and Technology cluster | Charts the strategy for the organisation and harnesses the use of technology in the State Courts. |
Presiding Judge's Office
The Presiding Judge's Office oversees the following:
| | |
| --- | --- |
| Legal Directorate | Provides legal support to the State Courts. |
| Centre for Learning | Oversees training within the State Courts. |
| Internal Audit | Promotes governance and enables a disciplined approach to evaluate the adequacy of controls. |
Judges and judicial officers in the State Courts
Presiding Judge
Justice Vincent Hoong
Deputy Presiding Judge
Ms S Jennifer Marie
Registrar
Mr Christopher Tan Pheng Wee
Senior District Judges
Mr Hamzah Moosa
Mr Bala Reddy
Mr Ong Hian Sun
Principal District Judges (PDJ)
Mr Toh Han Li

Ms Thian Yee Sze

Mr Yeo Khee Eng Victor
Mr Toh Yung Cheong
Mr Seah Chi-Ling
Ms Tan Li Ching Jill (Acting PDJ)
Principal Directors
Mr Ow Yong Tuck Leong
Mr Ho Hsi Ming Shawn

Deputy Principal District Judges
Mr Tan Loke Yong Luke
Ms Wong Peck
Senior Deputy Registrar
Ms Ong Chin Rhu
Mr Chiah Kok Khun
​District Judges
Ms Teoh Ai Lin

Mr Ng Peng Hong

Mr Kow Keng Siong
Ms Lee Lit Cheng
Mr Soh Tze Bian
Ms Jasvender Kaur
Mr Ng Cheng Thiam
Mr Chay Yuen Fatt
Mr Kessler Soh Boon Leng
Mr Lim Wee Ming
Ms Tan May Tee
Mr Tan Jen Tse
Mr Tham Tong Kong Eddy
Ms Jasbendar Kaur
Mr Bay Boon Teck Marvin
Mr Lim Tse Haw
Mr Gwee Tiong Kee Ronald
Mr Ng John
Mr Teo Weng Kuan Eugene
Mr Joseph Yeo Swee Teck
Mr Shaiffudin Bin Saruwan
Mr Loo Ngan Chor
Ms Salina Ishak
Mr Goh Eng Chiang Christopher
Mr Koh Juay Kherng
Ms Wang Lan Jee Janet
Ms Mesenas May Lucia
Mr Adam Nakhoda
Ms Lee Li Choon
Mrs Brenda Tan

Ms Ling Feng Yong Carol
Mr Foo Mau Peng Edgar
Ms Carrie Chan Su-Lin
Ms Kamala Ponnampalam
Ms Wong Li Tein
Ms Lynette Yap Beng Lyn


Mr Prem Raj S/O Prabakaran

Ms Woo Wai-Ling Carolyn
Ms Ho Yi May Lorraine
Ms Sharmila Sripathy

Mr Teo Guan Kee
Mr Tay Wei Heng Terence
Ms Chee Min Ping
Ms Kok Shu-En
Ms Sandra Looi Ai Lin
Ms Tan Yin Tze Sarah
Ms Karolyn Gin
Mr Koo Zhi Xuan
Ms Wong Choon Ning
Ms Ling Feng Mei Dorothy
Ms Tay Joo Ling Dora
Mr Chua Wei Yuan
Mr Sheik Umar Bin Mohamed Bagushair
Mr Gui Chuan Cheng Vince
Mr Chin Ye-Fung Julian
Mr Kwek Tze Hern Kevin
Ms Loh Hui-min
Ms Koh Jiaying
Mr Peter Lo
Ms Lum Baoling, Georgina

Ms Ho Diana Haven
Mr Lim Wen Juin
Ms Soh Weiqi
Ms A Sangeetha
Ms Lau Qiuyu
Ms Tan Bee Neo Melissa
Ms Wong Su Ann
Mr Ng Tee Tze Allen
Ms Liu Zeming
Mr Toh Jun Hian Jonathan
Ms Lim Mee Yee Elaine
Ms Crystal Goh
Magistrates
Mr Ng Pang Ern Jonathan
Mr Hairul Hakkim S/O Kuthibutheen
Mr Tan Jian Hui Theodore
Mr Faraaz Amzar Mohamed Farook
Mr Tan Choon Kia Lewis
Mr Tan Chen Xing
Ms Leong Wai Teng Joanne
Ms Tan Jia Qi Rachel

Ms Teo Wei Ling
Mr Goh Mu Quan

Note: District judges and magistrates preside over the District Courts and Magistrates' Courts respectively, and may hold concurrent appointments as deputy registrars, coroners, tribunal judges or magistrates.