Who can attend court sessions
Any member of the public may attend open court hearings in the Supreme Court or State Courts. These have limited seats and are available on a first-come, first-served basis. Hearings conducted using Zoom will be streamed on TV screens in the courtrooms.
View the list of upcoming hearings.
Cases that are conducted in chambers or in camera (Latin for "in private") are not open to the public. These cases include all Family Justice Courts (FJC) proceedings. Only parties involved in the case may attend, unless the court permits.
Hearings in chambers and hearings in camera are not the same.
A hearing in chambers takes place in either a judge's or a registrar's chambers, which is not open to members of the public. Pre-trial conferences and interlocutory matters are usually heard in chambers.
The court hears proceedings in camera in the interests of justice, public safety, public security or propriety, or for any other sufficient reason. Such proceedings include all FJC cases and some cases in the State Courts and Supreme Court.
When visiting the courts
Before visiting the courts, find out about:
Note
Activities including advertising, soliciting and/or touting are prohibited on the court premises.
Security check is mandatory
You will need to undergo a security screening before entering the court buildings. This screening is similar to that at airports.
When you enter, you will walk through a metal detector. Your belongings, including all food and drinks, will be screened via X-ray machines.
Examples of items that are not allowed into the court buildings include:
Weapons, dangerous items and prohibited tobacco products as listed on the Health Sciences Authority website, including e-cigarettes. You will be referred to the police if you have these items.
Sharp objects such as scissors, pen knives and card knives.
Flammable items such as aerosol sprays.

Recording devices such as cameras, video cameras and voice recorders. You will be asked to leave such devices at the security counter when you enter.
This list of prohibited items is not exhaustive. The security personnel will inform you if you have items that you must deposit at the security counter.
Note
Mobile phones are allowed, but the camera function must not be activated within the premises unless specified (for example, for scanning QR codes).
Dress code
You should be properly attired in business wear, smart casual wear or traditional dress. Examples of appropriate attire include: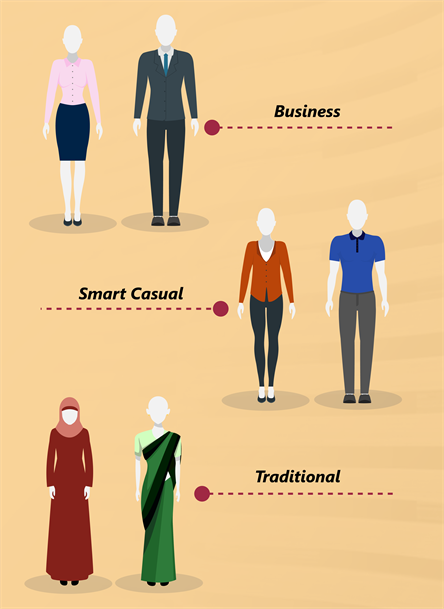 Visitors who are dressed in a manner that is indecent or offensive may not be allowed to enter the courthouse, courtroom or chambers. Examples of inappropriate attire includes singlets, shorts and slippers.
Court conduct
Follow these ground rules when attending a court session:
You should....

You should not...

Ensure all your phones and electronic devices are on silent mode before entering the courtroom.
Enter or leave the courtroom quietly so that you do not disrupt the proceedings. You should bow towards the State Crest or the judge as a sign of respect when entering or leaving.
Stand when the judge enters the courtroom.

Take photos, video recordings or audio recordings. All unauthorised recordings will be deleted.
Interrupt the judge
Interfere with court proceedings
Eat or drink.
Smoke.
Talk loudly.
Note
If you misbehave or fail to comply with the rules, the judge may order you to leave.
Additional guidelines:
If you are a visitor, you must be silent at all times during the court session and are not allowed to address the court.
You may use notebooks, tablets, mobile phones and other electronic devices to carry out the following activities, provided that such use does not disrupt or trivialise the proceedings:


Take notes of evidence and for other purposes pertaining to the proceedings.
Communicate with external parties for all hearings in open court.

You are advised not to bring young children such as infants into the courtroom.